In this article we talk about Horizon Workrooms, the metaverse of Facebook. The social media company is now interested in remote working and is launching its collaborative platform called Horizon Workrooms. First of all, Horizon Workrooms is a free beta version and comes from the already launched Facebook virtual world, Horizon Worlds: a social world in virtual reality.
What is the metaverse? And how does Facebook's Horizon Workrooms work? Find all your answers here.
What is Facebook and the metaverse?
In 2020, Facebook announced the launch of Horizon, a virtual reality social universe.
Mark Zuckerberg explains, "You can think of the metaverse as an immersive internet, where instead of just posting content, you're inside it."
Horizon is therefore a universe where players will be able to immerse themselves in their own worlds. To access this experience, you'll need an Oculus VR headset. Indeed, the Facebook metaverse is designed for virtual reality headsets.
Why has Facebook embarked on this project? 
Facebook wants to change its name and enter the metaverse. According to the American media "The Verge", Facebook is changing its brand to better present its ambitions for the future: the immersive Internet.
This change of name is linked to Horizon, which is currently being tested. Facebook recently launched a version for professionals, Horizon Workrooms. 
Horizon Workrooms: a Facebook metaverse
Facebook is revolutionising remote meetings with Horizon Workrooms. But what exactly is it?
First of all, it is a remote meeting tool based on virtual reality. In fact, it is only accessible on the Oculus Quest. Facebook is therefore creating a world between the real and the virtual for the future of business.
Mark Zuckerberg has been aiming for a few years to be the leader of what he believes to be the "successor to the mobile Internet". After having missed the mobile operating system (OS) train divided between iOS and Android, on which he depends a lot, the CEO of Facebook seems not to want to miss out on virtual reality.
Horizon Workrooms, metaverse and Facebook: the future of corporate distance meeting?
Let's not forget that the objective of Workrooms is to offer a virtual meeting room where collaborators have the freedom to gather and interact as if they were in a face-to-face work meeting.
For the moment the number of participants is limited to 16 people in virtual reality, however 34 other collaborators can participate by video call without a virtual headset.
All the basic features of a video chat are present: turning off the microphone, sharing the screen, … But what is incredible and what makes the metaverse so charming is the combined technologies of Facebook.
In other words, your desktop and/or keyboard in mixed reality, a synchronization of your body and your avatar (face, arms, hands, …) or the use of video conferencing in your VR meeting.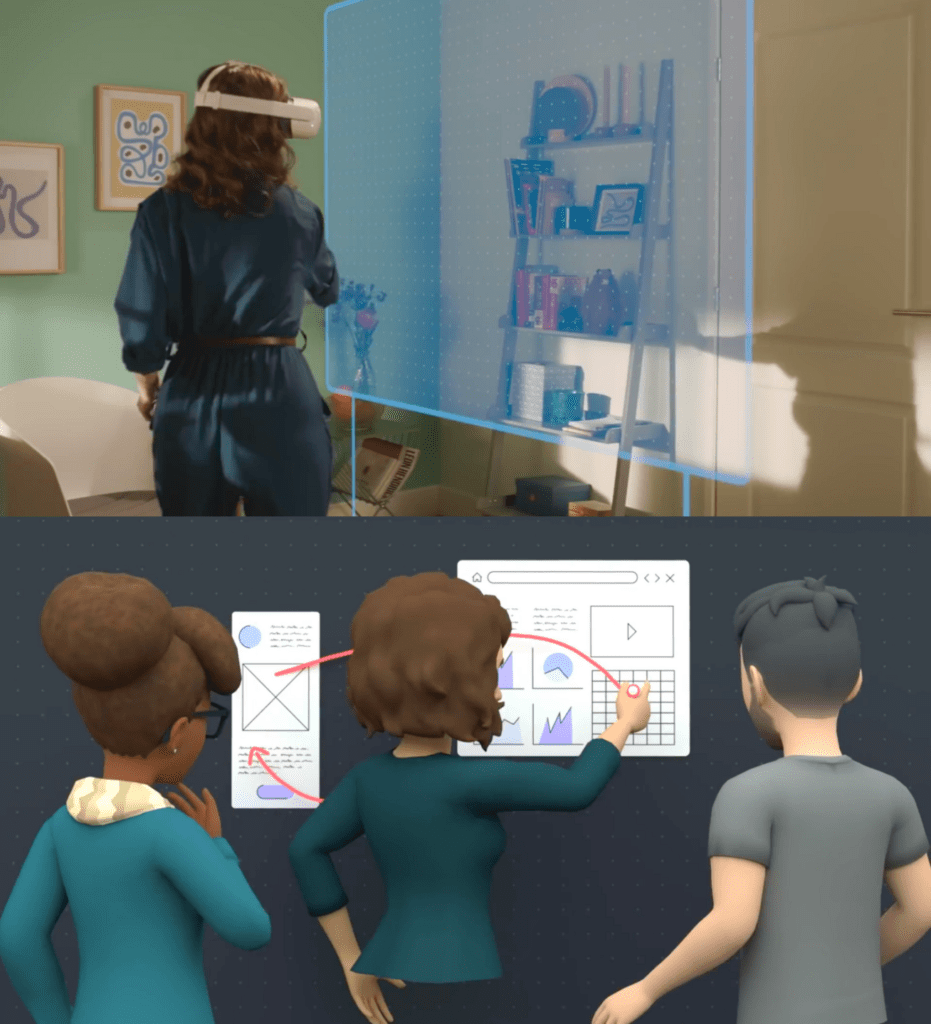 What do you think about this new way of (virtual) travelling for your company?
Did you like this article? Don't hesitate to share it on your social networks 🙂