The right technology allows businesses to grow and manage their employees efficiently. Moreover, the rise of MaaS and SaaS solutions have facilitated the way companies work. Faced with various issues such as the saturation of internal infrastructures, people management, variable costs from one pole to another, and the constant search for optimality and reliability, companies must reorganize their tools for more mobile use and more cost effective tools.
1. The importance of Software as a Service (SaaS) and Mobility as a Service (MaaS)
In one hand, in business travel, mobility management is one field that has witnessed the amazing benefits of technology. In the other hand, MaaS and SaaS solutions proved their importance in the B2B travel market, which left companies with no other choice but to adopt these solutions to manage their business trips and meet their business objectives. 
Software as a Service (SaaS)
To start with, to understand the importance of Softwares as a Service (SaaS) and mobility as a Service (MaaS) inside your business, you have to define these concepts:
"Software as a Service (SaaS) is an extremely common way for businesses to develop software and lease it to you or your company with an associated fee through an Internet subscription model"
This graph illustrates the revenues of ones of the most known SaaS vendor worldwide: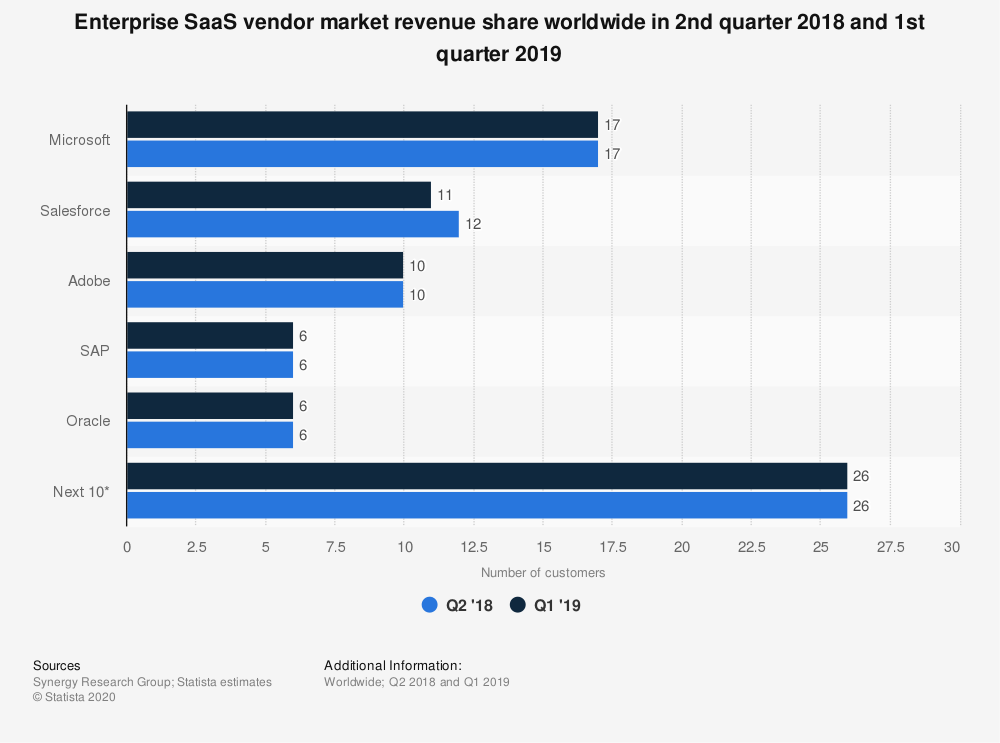 Advantages of SaaS solutions:
As SaaS solution is cloud-based applications, data is stored safely in the cloud which prevents data loss. 
When using SaaS applications, you just need a good internet connection to connect to the software. You can access your accounts from any device. Besides, for the new employees, you won't need to install a new application for them. Creating new registrations for the newcomers is enough when using SaaS
SaaS solutions, unlike traditional software, offer companies the chance to focus on their work instead of focusing on updating their applications. In short, updates are automatically done by the SaaS providers, which saves companies the time they spend on updates and offers them direct access to the newest features.
Since all the updates and software maintenance are done by the providers, companies won't need to hire experts to solve their IT problems. The advantage here is: Cost effectiveness
Mobility as a Service (MaaS)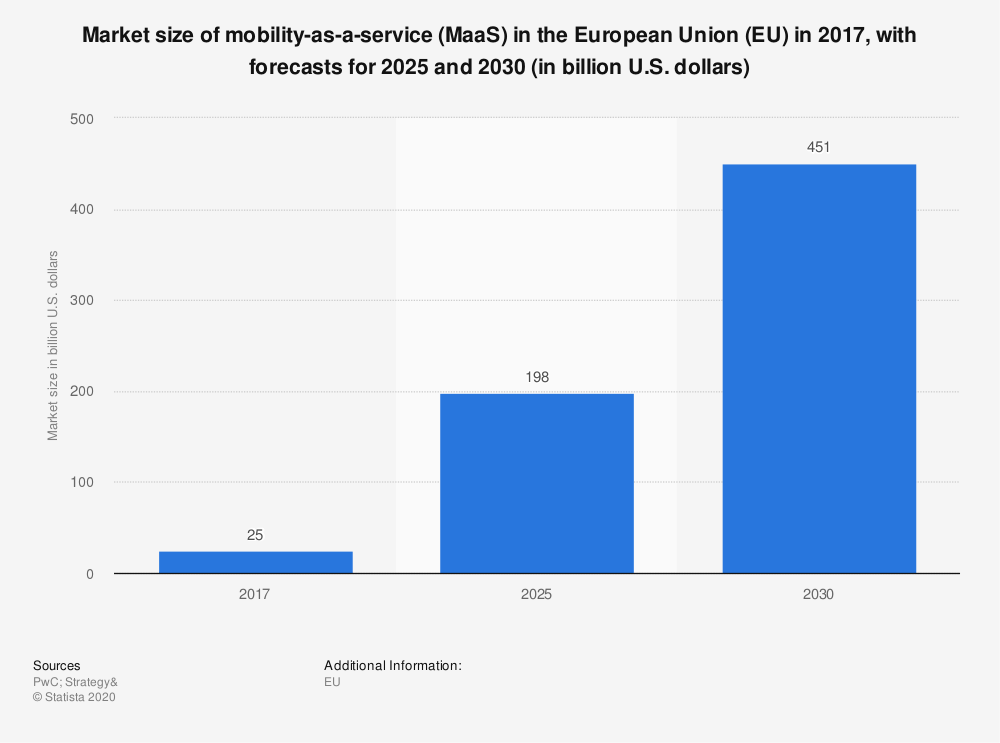 "Mobility as a Service (abbreviated to MaaS) is the concept of a streamlined and fully-integrated transport service, where the user pays a weekly or monthly fee to a single company, which in turn enables access to a multitude of transportation options, depending on your needs via one app or card."
The graph illustrates the market size of the MaaS industry in Europe in 2017 and a forecast for the coming years:
2. MaaS and mobility management
Now after understanding the meaning of Mobility as a service and Software as a service. What did they bring for companies and more particularly for the business travel industry?
As a matter of fact, technological solutions can be integrated into any business field. Precisely, in the business travel industry, MaaS solutions are of a big importance. With the digital transformation combined with new, more efficient, and more mobile friendly technologies in the mobility sector, the arrival of more and more players is facilitating the daily lives of travelers (VTC, bikes, motorcycles, taxis, scooters, etc. trains, etc) and allowing the user to move freely between his home and his work or for a seminar in another country.
In this context, using a MaaS solution like Ayruu mobile app is a necessity that companies can not ignore. MaaS offers an all in one solution for companies bringing together different parties interested in the mobility sector and in the implementation of simpler, more reliable and at lower cost management tools. As a result, simple user experience for business travelers. From travel planning, a larger catalog of offers, booking tickets, and accommodation to paying.
In conclusion, adopting mobile application and travel platforms such as our corporate travel management platform, help companies manage better their business trips and as a result optimize their travel costs.
Did you like this article? Feel free to share it on your social networks 🙂