In 2020 in the U.S., that's more than 155.8 million pieces of data exposed to everyone. In other words, the data of some hackers leaked. Furthermore, the personal data of more than 500 million Facebook accounts have just been made public in April 2021. Indeed, your phone number, address and date of birth may be accessible to everyone. For these reasons: how to avoid data breach?
Data leakage is the exposure of confidential, sensitive or protected information to an unauthorized person. Among other things, this information can be accessed and/or shared without authorization.
It is true that anyone can be exposed to a data breach: individuals, large companies, governments… More importantly, we can put others at risk if they are not protected.
In general, leaks are caused by weaknesses in :
Note that our computers and mobile devices are equipped with more connection features. So data is sneaking in more easily and in more places. New technologies are being created faster than we can protect them. In order to avoid them, it is also important to understand how they happen.
Here's a diagram of how a data breach can happen: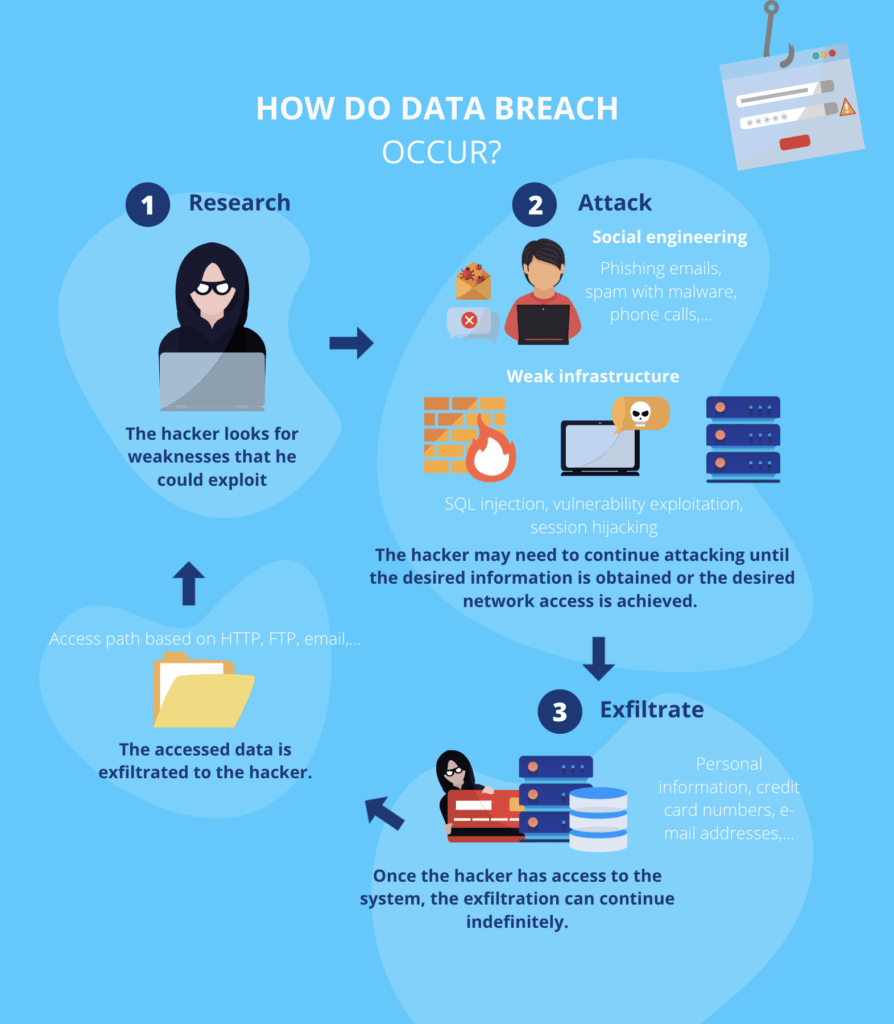 The reasons data breaches occur can sometimes be attributed to intentional attacks. However, they can just as easily be the result of a simple oversight on the part of individuals or flaws in a company's infrastructure.
Some examples:
By accident: an employee may use a colleague's computer and read files without having the necessary permissions. The access is unintentional, and no information is shared. However, because it was accessed by an unauthorized person, the data is considered breached.
Malicious insider: this person intentionally accesses and/or shares data with the intent to harm a person or company. The malicious insider may have legitimate permission to use the data, but their intent is to use the information in a nefarious manner.
Lost or stolen devices: an unencrypted and unlocked laptop or external hard drive (anything with sensitive information) goes missing.
Malicious external criminals: these are hackers who use various attack vectors to gather information from a network.
So how to avoid data breach?
Here are some methods to avoid a data leak:
Software patches and updates as soon as they become available.
High quality encryption for sensitive data.
Upgrade devices when software is no longer supported by the manufacturer.
Enforce security policies, such as requiring all devices to use an enterprise-grade VPN service and virus protection.
Enforce strong credentials and multi-factor authentication to encourage users to adopt better cybersecurity practices.
Encouraging users to start using a password manager can be helpful.
Train employees on security best practices and how to avoid social engineering attacks.
In business travel, Ayruu has taken all of these criteria and corporate cybersecurity requirements into account well in advance. Not only is the security of travelers important, but also the security of their personal data.
Did you like this article? Feel free to share it on your social networks 🙂