Office managers are usually busy employees who handle everyone's problems from managing meetings to booking trips for the team and the managers. To become a better office manager, the latter should acquire several skills. 
This article shows you the ultimate skills to establish a successful travel management strategy for your company. 
Technologies are developed to facilitate our daily tasks. Advanced tools (software, apps, websites, etc) are designed to help office managers decrease their workload. When managing business trips for employees, office managers have to follow the latest changes in the domain. Traditional travel management tools require a lot of time to implement, and for that reason, get informed on the latest technologies to save your company time and as a result, money.
Ayruu for instance is an alternative to traditional travel management tools. We have developed an innovative travel aggregator that will enable your company to save time and money on business trips. Intuitive, ergonomic, and user-friendly. Check the advantages of our tool here. 
2. Put the travelers at the center of your strategy
Once you found the appropriate technology. It would be best if you start thinking differently. The traveller is the most important circle of the strategy. In this context, Ayruu puts the traveller at the centre of the solution. We have established our features based on travellers' needs and welfare. 
When choosing the travel management solution, put all your focus on the travellers' needs and of course your company's values. 
Having the best tool is crucial. However, communication about the features of the tool and its operating modes is more important. Make sure to make training sessions for the technology's users. Inform them of the latest updates and more importantly, explain the reason behind adopting the new tool.
Communication is also helpful when putting in place a travel policy. Travellers need to have access to these guidelines in order to respect them. 
4. Time Management Skills
In business, saving time equals saving money. 
A successful office manager identifies time-consuming tasks and tries to find solutions for them. For example, he/she looks for a solution to automate the process or delete certain intermediary tasks. 
Using Ayruu, we delete an important time-consuming task for office managers which is treating expense reports. We encourage digitalizing this task or even better, the suppression of those reports. 
Do you know why? The answer is just below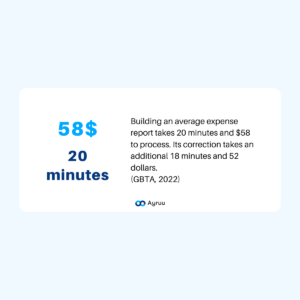 It's time for changing traditional business travel management tools! We offer you a free demo to discover the advantages of our solution for your company and your business traveller!