Firstly, it must be said that the year 2021 is the year of rail transport: Europe is opening up rail transport to competition in full Open Access but also it is the "European Year of Rail" #EUYearofRail. Then what is the opening to competition and what are the next opportunities?
What does the opening to competition mean?
To begin with, it is the end of the monopoly. From now on, private companies will be able to occupy the railways. Indeed, the European Commission wants the EU countries to open up what are called "services of general economic interest". In other words, users will be able to enjoy better service and fairer prices.
The benefits of opening up rail transport to competition
Thanks to the opening of rail transport to competition, users will finally be able to choose between several providers. In this spirit, they will also have access to lower prices but also to services that will better meet their expectations. That is to say, opening up to competition will make the European Union's economy more competitive and attractive. The opening of the railways is beneficial for all the actors of the market. It is also beneficial for the planet. Yes, the aim of the liberalization of the train is also to do good to the Earth (European Green Pact).
To make this concept easier to understand, Ayruu has created an infographic that summarizes the status of the opening of markets to competition in Europe.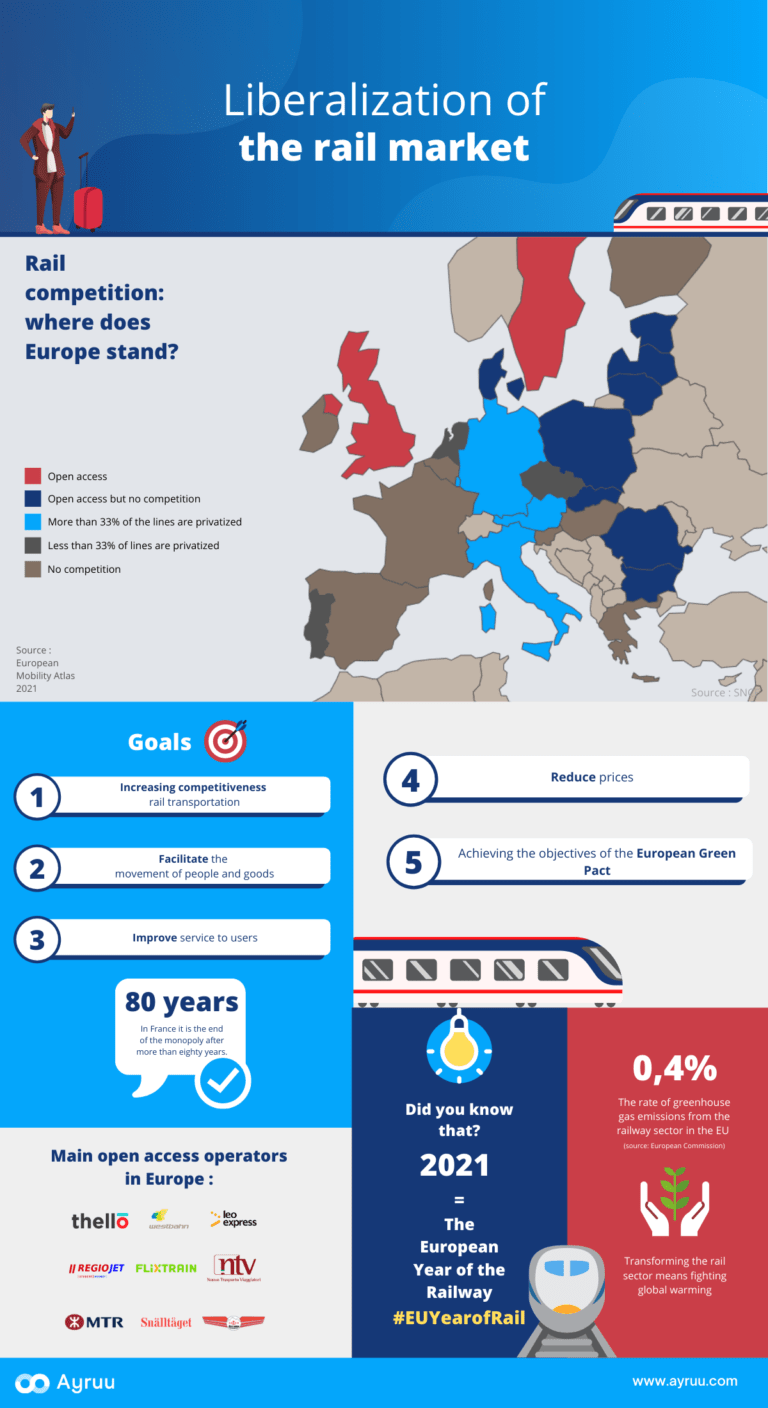 The objectives of the liberalization of rail transport
At first glance, the objectives and benefits of opening up the railways are highly correlated. Indeed, the primary objective is to increase competitiveness, which will allow the market to offer lower prices than we already see. That said, lower prices in a competitive market are a highly desirable benefit to consumers and businesses.
Improvements to train services
For companies, a competitive market is also an asset. In principle, companies will be ready to improve their offers if more and more users prefer their services. Thus it will also be the improvement of the quality of the old players that will come into play. Supposedly, the entry of new competition makes them want to gain or keep their market share.
As a general rule, in a large and strong competitive market, the more the sales volume of a company increases, the more the company will be ready to negotiate its offers to all its customers, so it is essential to improve the quality of its product or service. It is therefore essential to improve the quality of one's product or service in order to remain competitive and gain market share.
Did you like this article? Feel free to share it on your social networks 🙂