In recent years, the world of business travel has given way to a new trend combining "Business" and "leisure". A phenomenon experiencing significant growth, allowing people to thrive at work during a business trip.
So what are the advantages and disadvantages of bleisure?
The growing rise of new technologies has made it possible to reduce the border between the world of work and leisure. The concept is quite simple. Indeed, it is possible to take advantage of a business trip to visit alone, in a group, with family or friends on a trip. The employee could then extend his stay by several hours or days to visit or enjoy a country. This trend is especially present among new generations of travelers asking to get the benefits of bleisure.
The advantages of Bleisure are multiple for the business traveler:
Reconciling private and professional life to kill two birds with one stone
Lower stress and in addition increase productivity and therefore motivation
Enjoy more advantageous "leisure" rate for the employee
For the company, the benefits are also real. Indeed:
Attract new generation talents such as millennials

Ensuring employee performance

Reduce travel costs because an employee will tend to travel with family or friends, which means, for example, to travel in economy class rather than in business class
However, like any advantage, there are also disadvantages. Indeed, beyond the productive and motivating aspect that Bleisure provides, the company must also think about the security part, particularly in terms of insurance. For example, some sports that are considered "risky" could be excluded from certain contracts. Negotiations with the company's insurer on these various points are therefore essential. Another disadvantage is the follow-up of the employee. If there is a problem, how to locate him? And if this framework becomes too rigid,
Isn't the employee's motivation likely to decrease?
Therefore, it is essential to have a travel management tool that can bring together all the travel offers without any restriction. Such as Ayruu.
With broader suggestions
Well-established planning
Real-time information to properly manage all teh company's travelers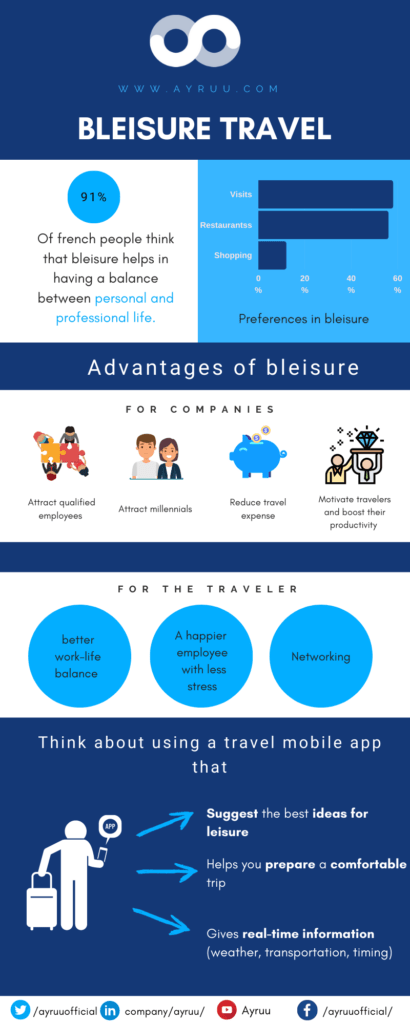 Despite these few legal doubts, since 2001 case law has shown that the employer's liability can still be called into question. It is therefore up to everyone to agree on the formalities of these stays in order to leave with peace of mind. After all, this is what business travelers are looking for.
Source: https://www.traveltalkmag.com.au/smart-business/the-benefits-of-bleisure-travel
Partager sur facebook
Partager sur twitter
Partager sur linkedin
Did you like this article? Feel free to share it on your social networks 🙂