Artificial Intelligence (AI) is now the core of business travel management. Corporate travel management problems are a real challenge for companies such as flight delays, trip modifications, last-minute changes, and a lot of other generic problems. 
In this article, you will understand how AI is being implemented in business travel.
When we think about artificial intelligence, our minds instantly starts to draw pictures of robots and smart objects. These images are real. 
Thanks to AI, business travelers are now able to witness these pictures in real life. According to Forbes article about the amazing ways Dubai Airport uses AI, engineers developed robots similar to those used in Amazon warehouse, to carry the passengers' luggage. 
Airport will be more organised thanks to these robots and travelers will experience a different way of traveling. An easier and more comfortable trip.
Hôtels too are implementing AI. You will enjoy watching this video about Meet Connie, a robot developed to be an assistant for customers to guide them and find answers for their questions.
Inside Ayruu, AI is valorised and we work in order to implement it further in our travel solution. MyA is our IA Travel Assistant that you can discover by clicking here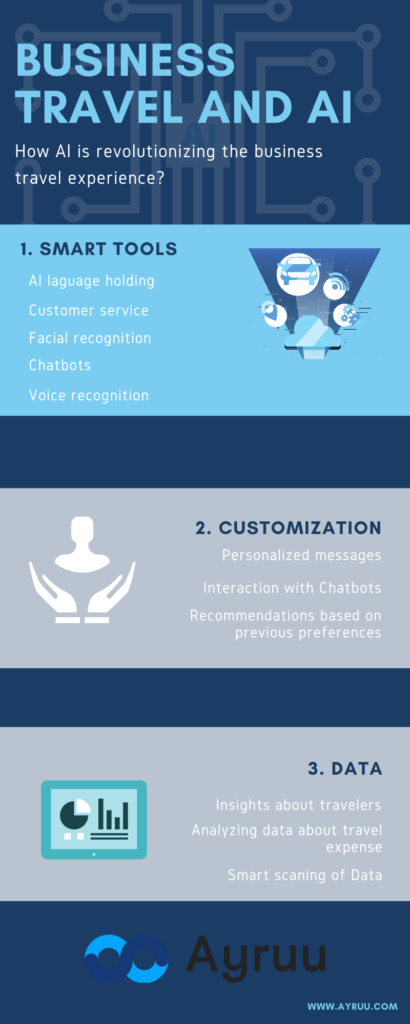 Providing a personalized travel experience is now one of the latest trends in travel. Thanks to AI, companies in this sector are implementing smart technologies to make the customer feel special.
In this context, AI allows the reception of personalized messages before, during, and after the trip.
Chatbots offer a continuous personalized experience to travelers. This means that they can ask whatever questions they want and chatbots will answer within seconds.
Remember that without AI, chatbots can't exist. And what is promising is that these tools learn from the users' questions to improve continuously their functionalities.
As you can see from the graph, almost half of the travel brands are willing to invest in chatbots in 2019.
Additionally, we can witness the presence of personalization in suggestions and recommendations. Using data provided by the users, travel solutions can recommend hotels, transport, restaurants, and any other recommendation related to travel needs, according to the previous preferences of the users.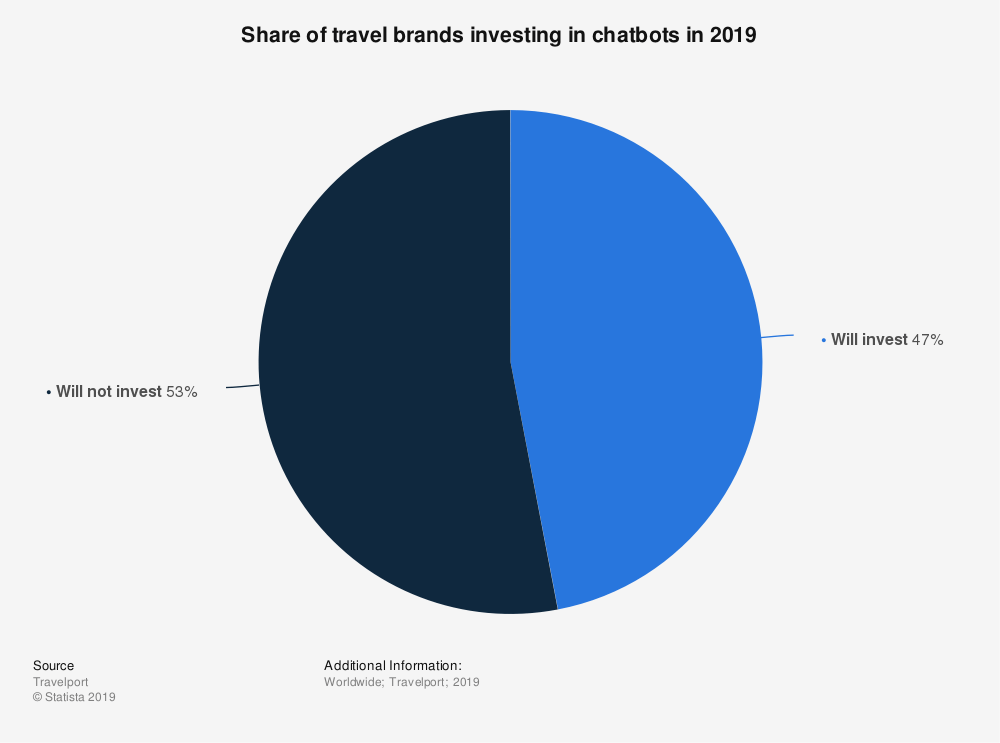 As we were talking about the use of data in the previous paragraph, it is without a doubt that combining AI and Big Data analytics is the future in business travel. Travel agencies are generating a huge amount of data daily. AI made it easier for companies to manage this data and use it efficiently. First, recommendations based on previous data is one of these uses. 
Then we find that AI and data are simplifying complex tasks and making them easier. For instance, filling the different forms automatically in a travel app and the smart scanning of bills and expense reports.
Besides, AI has made it easier for companies to have insights and analytics about the data they gather. Now they have access to their expense analytics, travel frequencies, ages of the travelers, and many other important details.
Did you like this article? Feel free to share it on your social networks 🙂